FRIENDS OF THE HAGENBUND
VEREIN DER FREUNDE UND DER WISSENSCHAFTLICHEN ERFORSCHUNG DES HAGENBUNDES
The Verein der Freunde und der wissenschaftlichen Erforschung des Hagenbundes, or Friends of the Hagenbund for short, was founded in Vienna in 2002. Collectors of Hagenbund art had met, mostly by accident, over the years in galleries and museums. The individual collectors came together to form a circle of friends, united not only by their collecting passion but also by their desire to find out more about the association that had produced the works they so admired. The articles of association therefore include the following aims:
Aims
Research into the fate of the Hagenbund and its members
Positioning of the Hagenbund within the contemporary art scene from 1900 to 1938
Awareness-raising through exhibitions and catalogues
Publication of monographs and books
Media work
The results of the collection and research activities of the Friends of the Hagenbund have been presented in several public exhibitions.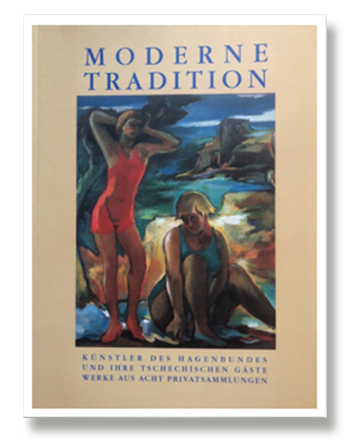 Exhibitions
Künstler des Hagenbundes: 10. Sonderausstellung des Anton Hanak-Museums Langenzersdorf, May - November 1989
Unbekannte Schätze - Klassische Moderne aus zehn Wiener Privatsammlungen. Ausstellung Schloss Rosenau 1998
Moderne Tradition - Künstler des Hagenbundes und ihre tschechischen Gäste - Werke aus acht Privatsammlungen. Ausstellung Palais Kinsky Vienna July/August2002
Die Künstlervereinigung HAGENBUND - eine Auslese. Ausstellung Museum 'Alte Hofmühle' Hollabrunn September/October 2005
Sechs Ungarn im Hagenbund. Ausstellung mit Kunstwerken aus österreichischen Privatsammlungen und der ungarischen Nationalgalerie. Collegium Hungaricum Wien January/February 2015
Catalogues have been published to accompany the exhibitions.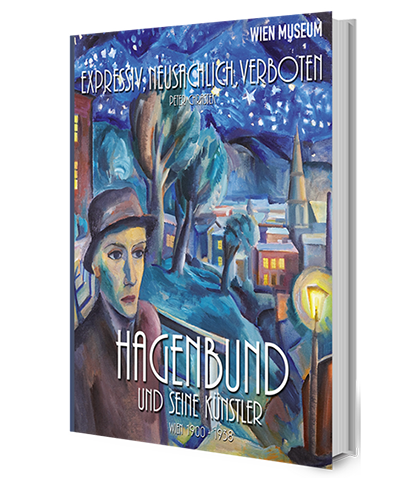 Other activities
The forty years of research on 180 Hagenbund artists culminated in 2016 in an encyclopaedic work by Peter Chrastek and Peter Sroubek:

HAGENBUND AND ITS ARTISTS: Expressionism, New Objectivity, Prohibition, edited by Wien Museum and der Verein der Freunde und der wissenschaftlichen Erforschung des Hagenbundes, exh. cat.. Wien Museum (Vienna 2016), ISBN-13: 978-3950405910, in German and English.

It includes some hitherto missing biographical data and information about the fate of the members from 1900 to 1938. The biographies of Hagenbund members, characterized by economic hardship and political persecution, reflect how difficult it must have been to create art during this time.
TV film commissioned by the Hagenbundfreunde
A documentary commissioned by our association and realized by
PopUp Media Film- & TV-Produktion
DER HAGENBUND - DIE VERLORENE MODERNE was broadcast on April 26, 2022 by ORFIII in the 'Erbe Österreich' series. The film aims to bring 'our' artist association out of the shadow of the Künstlerhaus and Secession and to make it known to a wider audience. The presentation of selected locations with works by Hagenbund artists in public space forms the common thread for a mixture of statements by well-known art experts.
The Hagenbund - The Lost Modern Age
can be seen on YouTube!
Executive board
Prof. Peter Chrastek, initiator and after Dr. Kurt Berger and Dipl.Ing. Erich Gusel, third president in the history of the association, announced his resignation at the general meeting on November 29, 2019 and was named honorary president for his merits. Founding member Peter Sroubek was elected as his successor. Overall, the association is now represented by the following persons: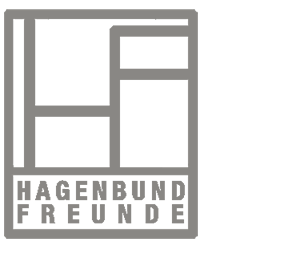 President: Peter Sroubek
Vice-President: Manfred GÖTZ
Secretary: Manfred PREGARTBAUER
Deputy: Siegfried SELLITSCH
Treasurer: Andreas GRUNDBICHLER
Deputy: Anna RIFFEL
Auditor: Hema MAKWANA and Helmut MIERNICKI
HAGENBUND ARTISTS' ASSOCIATION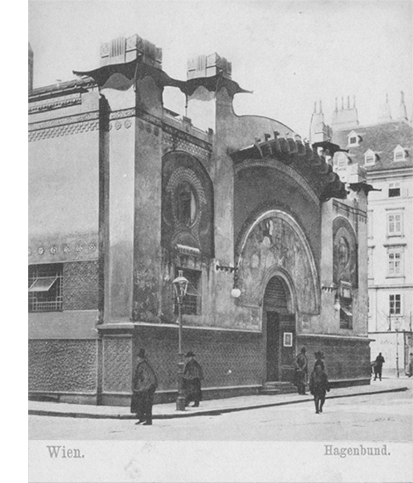 The origins of the Hagenbund artists' association in Vienna date back to the informal meetings of artists to discuss contemporary visual arts from 1880 onwards. These gatherings took place initially in various restaurants and then on a more regular basis in the restaurant Zum Blauen Freihaus in Gumpendorfer Strasse, whose owner Josef Haagen gave the association its name. The Künstlerbund Hagen der Genossenschaft Bildender Künstler Wiens was formally established on 3 February 1900. At the outset, it was an association within the Genossenschaft der bildenden Künstler Wiens ("Künstlerhaus"), established in 1861, the professional body representing Viennese artists, sculptors and architects. Just as the Klimt group had left the Künstlerhaus in 1897, the Hagenbund members also withdrew from its protection on 29 November 1900 following various disagreements. As the Künstlerhaus, which had opened in 1868, was no longer available for exhibitions, a new venue in the Markthalle in Zedlitzgasse was established. The restructuring of this hall was organized by the architect Josef Urban, founder member of the Hagenbund, who also worked as a theatre set designer, but already emigrated to the USA in 1911. The exhibitions in Zedlitzhalle reflected the ambitious aims of the Hagenbund and were devoted to the entire spectrum of visual arts, including applied and commercial art.
Guests from Austria and other countries were regular contributors to the exhibitions. Oskar Kokoschka's expressive oil paintings were shown as early as 1911, creating something of a sensation in the city, but also giving rise to angry protests. The short-lived Neukunst group headed by Egon Schiele, who had left the Academy of Fine Arts in Vienna in 1912, was invited to hold an exhibition that included works by Schiele, Gütersloh, Kolig, Wiegele and others. The Hagenbund was thus always open to and interested in foreign art and new artists, an interest that became more intense in the interwar years. Disapproving bodies forced the closure of the Zedlitzhalle from autumn 1912 and during the First World War, and the premises, in urgent need of renovation, could not be used again until 1919. Whereas traditional art had been the focus hitherto, after the war a younger generation of artists – names like Floch, Hauser, Lerch, Mayer- Marton, Merkel, Schatz or Schwarz-Waldegg – began to set new standards. The modern styles of Expressionism and New Objectivity became increasingly prominent, giving rise to a distinctive Hagenbund style.
From 1924 onwards, women were also permitted to join the association as extraordinary members. They were not allowed to vote but could participate in the discussions and exhibitions. The world economic crisis had a considerable impact on the Hagenbund and its members, especially after 1929, since it made the sale of works of art increasingly difficult. With the changing political circumstances in the 1930s, the characteristically tolerant and pacifist attitudes of the Hagenbund became less and less desirable. Jewish members were expelled in February 1938 by president Karl Stemolak, apparently at the instigation of Leopold Blauensteiner, responsible for visual arts in the Nazi Party Landeskulturamt (Provincial Department of Culture) (1). The Hagenbund was ultimately dissolved after the "Anschluss" for both organizational and economic reasons, the new legislation calling for its structure and assets to be transferred to a (Nazi) "society of fine artists" (2). Some members were able to continue working under difficult circumstances abroad; others were unable to escape and, like Fritz Schwarz-Waldegg or Robert Kohl, were killed in concentration camps.
The attempt to revive the Hagenbund after the war was short-lived and unsuccessful.

From today's perspective, the Hagenbund may be seen above all as a powerful interwar art movement, occupying a distinctive and progressive place next to the Secession and Künstlerhaus groups and notable for its cosmopolitan, heterogeneous and innovative character. Many of its members were persecuted, driven out or murdered in concentration camps during the Nazi era on account of their "non-Aryan" origins and/or their antifascist opinions. The association's archive was also completely destroyed. As the Hagenbund was extensively ignored for a long time in the Austrian art and cultural scene, there was an evident gap between the known and often high-quality works of art and the absence of biographical data about their creators, which was asking to be closed. Hagenbund art is now increasingly recognized, but there are still undiscovered treasures that make intensive research more worthwhile than ever.


Further information can be found under the Wikipedia entry for HAGENBUND
A list of members is provided here.
Bernhard Denscher published an analysis of the exhibition posters as a visual self-portrayal of the artists' association.


(1) Lisa Frank: Meine Erinnerungen an den Hagenbund (New York 1993). In: Die verlorene Moderne – Der Künstlerbund Hagen 1900 – 1938. Österreichische Galerie im Schloß Halbturn, Burgenland, Vienna 1993.

(2) Ernst Ploil. "Das Ende des Hagenbundes" in Peter Chrastek, Hagenbund and Its Artists: Expressionism, New Objectivity and Prohibition, eds. Wien Museum and Verein der Freunde und der wissenschaftlichen Erforschung des Hagenbundes, exh. cat. Wien Museum, Vienna 2016, in German and English.
EXAMPLES OF WORKS
Many additional illustrations can be found in the following video
CLOSELY OBSERVED
Friends of the Hagenbund present individual works
Franz lerch (1895-1977)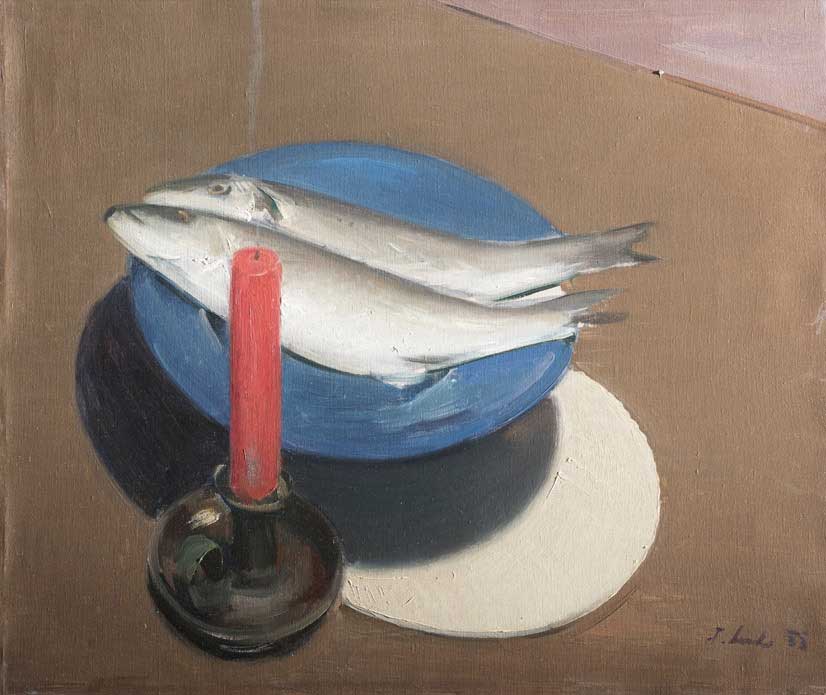 Still life with fish and candle
Oil / canvas, 60 x 70 cm. (signed lower right)
Franz Lerch
was born on August 30, 1895 in Vienna. The landscape, genre and portrait painter studied from 1919 to 1927 under Josef Jungwirth, Karl Sterrer and Alois Delug at the Vienna Academy. In 1927 he undertook study trips to Paris and Holland. Franz Lerch was able to make a living from his job from 1931 thanks to numerous prizes and purchases of his works by Austrian museums. He received i.a. the Prize of the City of Vienna and four times the State Prize. From 1927 to 1938 Franz Lerch was a member of the Hagenbund, and in 1946 he joined the Vienna Secession. Forced to emigrate because his wife was Jewish, Franz Lerch had been working in New York since 1938. In 1939/40 he destroyed many of his paintings.

Lerch's pictures have a rich colourfulness, great spatial depth and strong plasticity. References to the New Objectivity can be seen in the still life shown. Franz Lerch died on January 25, 1977 in New York


---
Archiv (zuletzt veröffentlicht)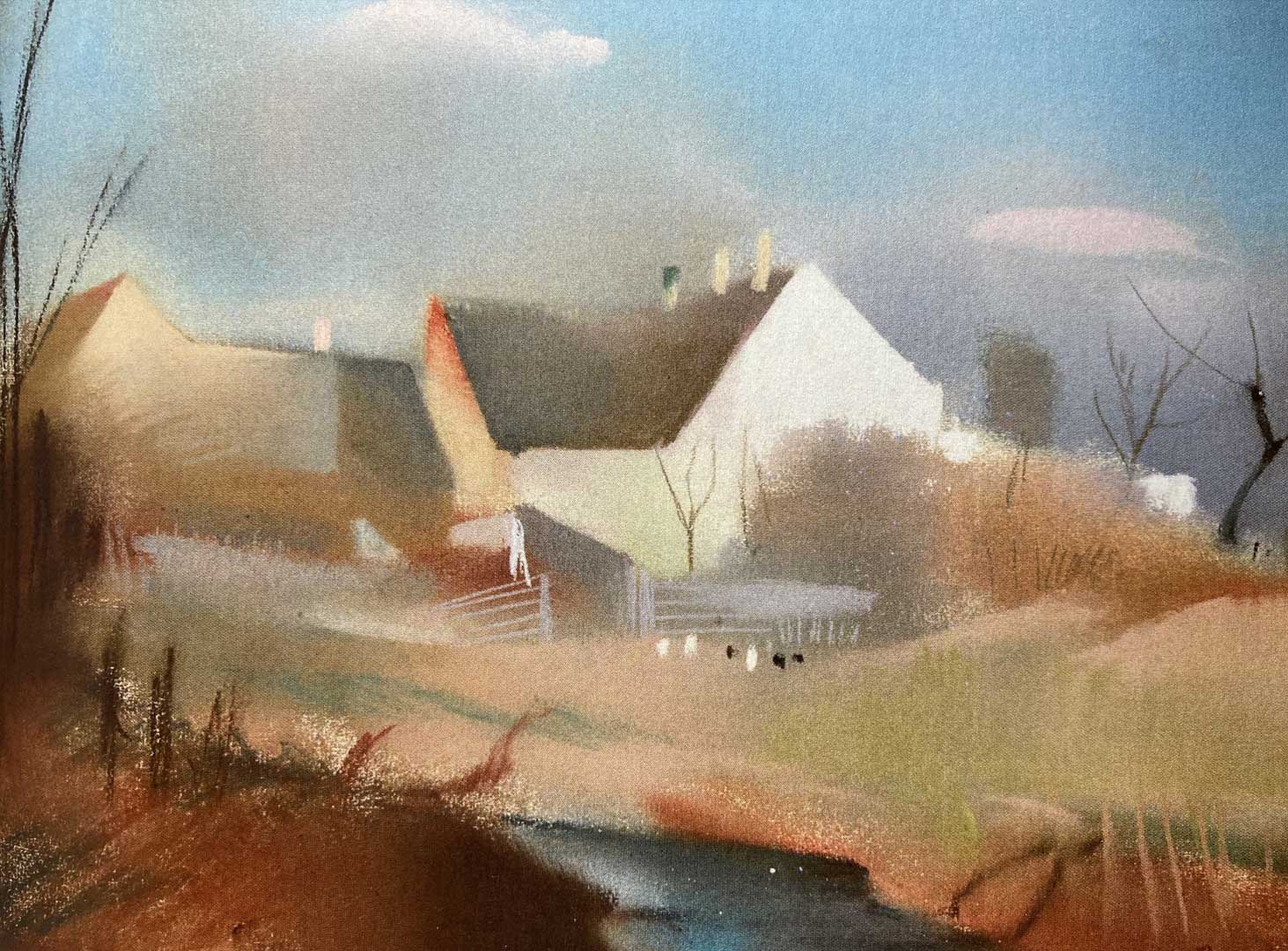 Lower Austrian village landscape 1935/36
Pastel, 31 x 47 cm.
was one of the most active members in the Hagenbund in the 1930s. In addition to participating in numerous exhibitions, he designed several exhibition posters and was also active in the management of the association.

His stylistically diverse work was initially committed to the New Objectivity; in addition to city views, landscapes subsequently dominated, which soon earned him the attribute "Master of the pastel".

The illustrated work from 1935/36, which Pregartbauer dedicated to the art historian Fritz Grossmann, who was later forced to emigrate, is an excellent example of this. The subtle color surfaces of the landscape and sky create a bright, friendly atmosphere. This creates a clear contrast to his dark, often macabre subjects.

With the continuation of his life and work, in which he was associated with the Secession after 1945 (1957-1960 also as President) and most recently with the Künstlerhaus, the representational was reduced. These days, Pregartbauer's death is celebrating the fiftieth anniversary.

Manfred Pregartbauer, March 31, 2021

---
Archive (last published)


Viktor TISCHLER
Old Port of Marseille 1928
Oil on canvas, 54 x 73 cm. shows his typical architectural and cubist expression. The restraint in color and the contrasting juxtaposition of walls and water are remarkable. The restraint in color and the contrasting juxtaposition of walls and water are remarkable.
Viktor TISCHLER (Painter and graphic artist),
born on June 26, 1890 in Vienna, died on February 24, 1951 in Bealieu-Mer / France.
Landscapes, portraits and figures, some in a contemporary style
1920 – 1938 Member of the Hagenbund
1928 – 1941 he lived partly in Paris and southern France, then persecuted due to his Jewish origins and emigrated to the USA
1949 Return to the south of France
Friends with Josef Floch and Franziska Zach
Andreas Grundbichler
A video on the occasion of the
book presentation
HAGENBUND UND SEINE KÜNSTLER
on 21 April 2016 in Wien Museum